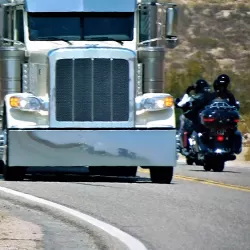 Fort Worth and North Texas finds itself in the middle of one of the busiest transportation centers in the United States. Fort Worth and North Texas are criss-crossed by Interstate highways, U.S. highways and a booming oil and gas industry.
All of this lends itself to the residents of North Central Texas area suffering more than their fair share of injuries and death due to the operations of long-haul trucking, short-haul trucking, and oil and gas trucking.
Factors such as the use of over-the-counter and prescription drugs, speeding,  inattention, distractions, work environment and road unfamiliarity can all contribute to driver error.  However, sleep deprivation and driver fatigue are by far the most common causes of truck accidents.
Truck wrecks require a quick response and investigation to preserve the evidence of the wreck, including but not limited to truck logs, scene investigation, and witness statements, to name a few.
Get Fast Legal Help
Fortunately, you don't have to handle everything on your own when you hire Attorney Michael J. Henry. You could be entitled to receive substantial compensation from the trucking company, truck driver, or other negligent third parties.
Investigating to find out what caused the truck wreck
Identifying every source of insurance compensation available to pay your damages
Bring in expert witnesses and specialists to analyze the evidence and fight back against the insurance company
Stand up for your rights when the insurance company tries to scare you into accepting a lowball settlement offer
Negotiate with the insurance company to get what's fair in your injury case
If you're seriously hurt in an accident caused by someone else's negligence, the responsible party is also responsible for paying your damages. Unfortunately, getting money in your pocket is often easier said than done. 
Attorney Michael J. Henry maintains relations with investigators, trucking industry experts, accident reconstruction experts and other individuals with specialized training that can be dispatched to secure evidence, conduct investigations, and protect the client's rights.
In a commercial trucking scenario, numerous parties may share blame for a truck accident and injury, including:
The truck driver
The owner of the truck (or trailer)
The person, or company, who leased the truck/trailer from the owner
The manufacturer of the truck, tires or other equipment which caused or contributed to the crash
The shipping or cargo loading company